This article is your comprehensive guide to FHA home loans. We'll delve into key topics such as eligibility requirements, downpayment amounts, minimum credit scores, mortgage insurance, employment history, income criteria, and FHA appraisals. 
By the end, you'll have a clear understanding of the critical aspects of FHA home loans and how they can help you secure affordable homeownership. Let's dive into the details!
The FHA loan process simplifies homeownership. You must make the home your primary residence, meet downpayment requirements, maintain a steady employment history, and have a minimum income. A crucial element is the minimum credit score, and mortgage insurance provides financial security. 
Lenders also assess your debt-to-income ratio, and the home undergoes an FHA appraisal to align with loan value. These steps outline the FHA loan process, making homeownership more attainable.
The home you intend to buy must be your primary residence
You can't get an FHA loan for a summer home or for buying a business investment property. FHA loans are only given to buyers who intend to live in the residence. An additional requirement is that you start living in the house within 60 days of closing the loan. 
Downpayment amount
FHA loans have more favorable requirements when it comes to down payments. Conventional loans require down payments of 3% to 20%. With an FHA loan, you can make a lower minimum down payment of 3.5% of the value of the home and still get the loan. 
Downpayment requirements vary between 3.5% and 10% depending on your credit score. 
Minimum credit score for an FHA loan
The minimum credit score to obtain an FHA loan is 500. With such a score, you must make a 10% downpayment. 
With a credit score of 580 or more, you can make a smaller downpayment of 3.5%. 
Mortgage insurance on your FHA home loan
The FHA closing costs mainly consist of private mortgage insurance requirements. In particular, to qualify for an FHA loan, you must pay two types of FHA mortgage insurance. 
The

upfront mortgage insurance premium

stands at

1.75%

of the loan amount and must be paid when the loan is approved. In many cases, FHA borrowers can manage to include this insurance amount in the loan amount so they don't have to disburse a lump sum for this insurance.  

The

annual mortgage insurance premium

(MIP) varies between

0.15%

and

0.75%

of the loan amount. This is divided and paid monthly, alongside your monthly mortgage payment. 
The annual mortgage insurance premium is payable for the life of the FHA loan. However, if your downpayment is 10% and more, you only have to pay for the annual mortgage insurance premium for the first 11 years of your mortgage. After that, mortgage insurance premiums are waived. 
You have a steady employment history
To obtain an FHA loan you must be able to prove you have had steady employment for the past two years. You might be required to show pay stubs and bank statements to prove your employment status. 
Minimum income for an FHA loan
FHA loan income requirements are easy to comply with, since there is no minimum income required for an FHA mortgage. As we said, you must be able to prove stable employment and your creditor can ask you to show proof of timely payment of utilities and bills. They will obviously check your credit history and any events of bad credit, bankruptcy, or default. 
Past bankruptcy or a difficult financial situation in the past will not disqualify you from an FHA loan. You can apply for an FHA loan two years after Chapter 7 bankruptcy. 
Debt-to-income ratio requirements
FHA loan requirements regarding the debt-to-income (DTI) ratio are flexible. You must have a DTI ratio of 43% at the most, which means that 43% of your income goes toward repaying your debts (student loans, personal loans, car loans, credit cards, etc.) There can be some exceptions to this rule, especially if you put down a larger downpayment when you apply for an FHA loan. 
The home must be FHA-appraised
Before you buy your new home, it must be appraised by an FHA-approved appraiser so that it conforms to the FHA guidelines. 
The appraiser will inspect the home and ensure it complies with the description and fits the needs and requirements of a primary residence. The appraiser measures the home (footage) and notes all characteristics and potential problems the home might have. 
Maximum Loan Amounts You Can Get with an FHA Loan
There is a maximum amount you can borrow from FHA lenders. 
For a single-family home in an average area, the FHA loan maximum amount is $472,030 for 2023. For more expensive high-cost areas, the maximum FHA loan limit is $1,089,300, for a single unit.
The FHA loan limits vary in different counties and depend on the county your prospective home lies in and the median house prices in the state your future home is in. FHA mortgage limits are one of the cons of FHA home loans, as it puts a restriction to the property type you can acquire.
FHA loans are backed by the Federal Housing Administration and help people with a lower credit score or unbalanced credit history to purchase a home. 
People getting back on their feet after a bankruptcy event or with a history of unpaid credit card debt may find it easier to get a mortgage through an FHA loan. An FHA-backed loan is also better for you if you don't want to make a big downpayment. 
The FHA backs the loan and gives your fha-approved lender the certainty that they will get their money back even if you can't pay your home mortgage at some point. This gives them the incentive to lend to first-time buyers or to people with an average or low credit score. 
FHA loans can offer lower mortgage rates compared to conventional loan rates. Interest rates depend on the borrowers' credit report, the loan down payment amount, and other criteria considered by FHA mortgage lenders.
Advantages of FHA Loan Make It Easy for People to Buy a Home
Navigating the intricate world of real estate and finance can be daunting, especially when you're weighing the pros and cons of different loan types. FHA loans, backed by the Department of Housing and Urban Development, offer a unique option for many aspiring homeowners. 
Whether you're a first-time homebuyer or someone looking to refinance a home loan and tap into your home equity, it's essential to learn about the various loan programs available. The market is vast, and while conventional mortgage options might appeal to those with good credit, FHA loans provide an avenue for those who might need a lower down payment or have faced financial challenges in the past.
Remember, every purchase price and home purchase decision is unique, and what makes sense for one person might not for another. It's always wise to gauge potential monthly mortgage payments and consult with experts who can offer insights tailored to your situation.
In the ever-evolving world of personal finance, staying informed is key. Whether you're exploring FHA loans vs. other mortgage options, considering a cash-out refinance, or simply seeking guidance on tax returns and taxes related to your property, always ensure you're making decisions based on accurate and up-to-date news and information.
FHA loans come with more favorable loan terms and conditions to help people buy their homes. The requirements for FHA loans in 2023 are more lenient and forgiving, which helps first-time buyers or people who have had financial difficulties in the past. Also, insurance premiums on FHA loans might seem high but they are the safety net for the bank to lend you money. 
At the end of the day, the bottom line is about finding the right fit for your needs. Whether you're buying a home or exploring refinance options, always prioritize your long-term objectives and financial well-being. And as you journey through this process, know that we're here to support, guide, and provide the services you need to make your dream home a reality. 
If you feel the time is right for you to buy your home, then you should consider an FHA loan for you and your family. Contact us for more information on FHA mortgage loan requirements and to find out the mortgage rate you may qualify for. We will help you easily compare your potential monthly payments and see how this type of mortgage aligns with your financial goals. 
Frequently Asked Questions
FHA loans and conventional home loans differ primarily in their eligibility requirements, downpayment requirements, and mortgage insurance. 
FHA loans typically require a lower downpayment and have more lenient credit score requirements but require mortgage insurance. Conversely, conventional mortgages may require a large down payment but don't have a mandatory insurance requirement if the down payment is at least 20% of the home price. The interest rate for FHA loans is also usually lower than for conventional mortgages.
However, down payment assistance programs are not available for FHA mortgage loans.
An FHA loan is a mortgage insured by the Federal Housing Administration (FHA). These loans are designed for low-to-moderate-income borrowers who may have lower credit scores or who have limited savings.
While FHA loans are often associated with first-time homebuyers, any eligible borrower can proceed with an FHA loan application. To qualify, borrowers must have a credit score of at least 500, a debt-to-income ratio of 43% or less, and a small downpayment of at least 3.5% for credit scores of 580 or higher. For those with credit scores between 500-579, a 10% downpayment is typically required.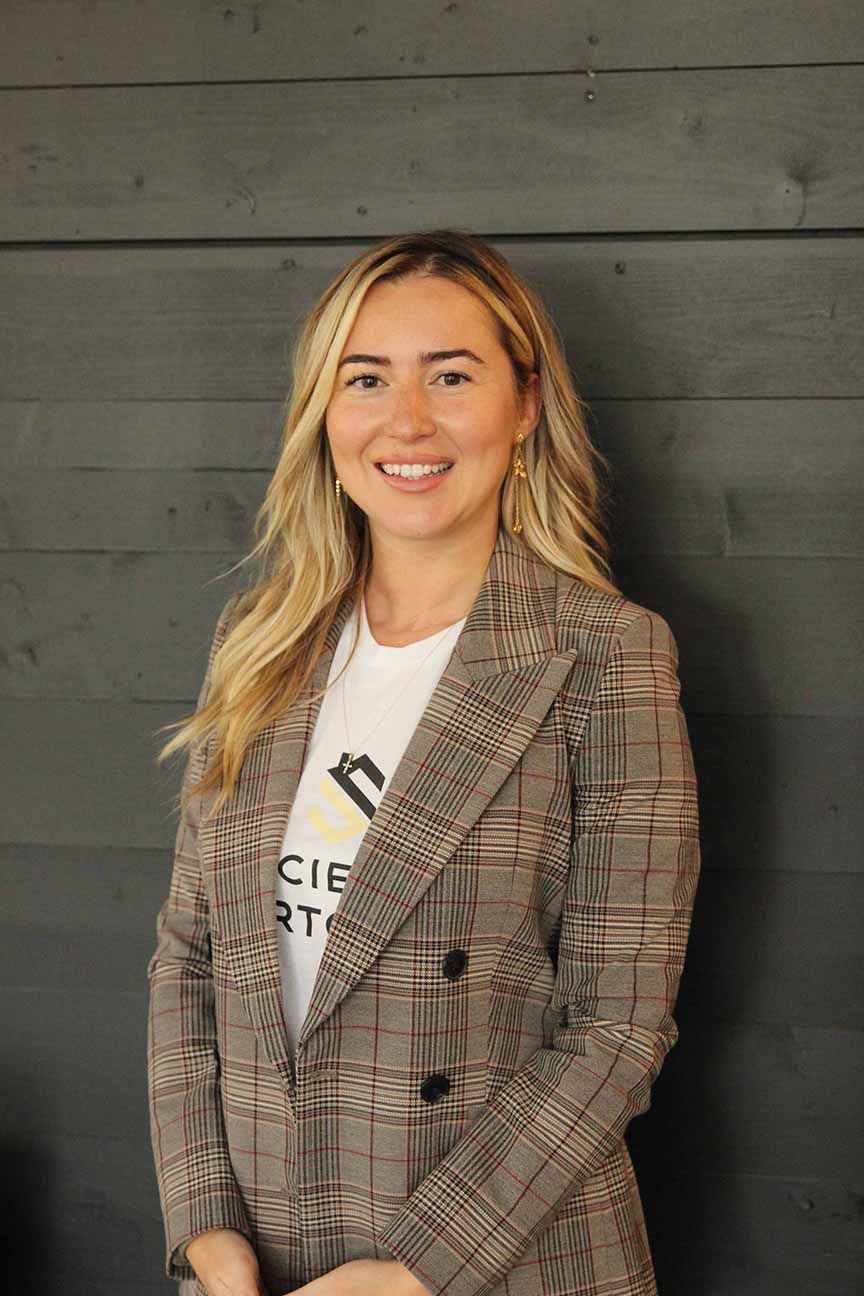 Venice Luckx is the Sales Director (NMLS ID: 1810923) at Society Mortgage. Hailing from Belgium, she now calls sunny South Florida home. With a background in Business Engineering, Venice brings a passion for finance and entrepreneurship to her role. She's dedicated to simplifying the home-buying process and is committed to helping you achieve your financial goals.