The FHA Loan Program is a mortgage insured by the Federal Housing Administration. The FHA insures mortgages on single and multi-family homes for FHA-approved lenders to protect against losses as a result of a homeowner defaulting on a mortgage. This also protects the borrower as well, as the Federal Housing Administration would be paying for that default. Due to these perks, the FHA Loan Program is typically more used by first-time home buyers. In order to apply for FHA loans, the minimum credit score to apply is 500. However, if the borrower has a 580 credit score or higher, they qualify for the 3.5% down payment option.  Similar to USDA Home Loans, FHA Homes must be safe and sanitary for the home-buyer. This means that there are requirements for water tests, as well as other important inspections that may result in additional tests, like roof inspections or foundation certifications. One advantage is that FHA Loans have a lower guideline for what's required for a down payment than Conventional Loans. FHA loans only have a 3.5% down payment requirement, making this an excellent program for first time home buyers. The flip-side is that there is also a required up front premium and monthly premium for the mortgage insurance through FHA. Another advantage of FHA Loans is that they are assumable. Assumable loans are when the borrower takes over a seller's home loan. Assumable loans have their own advantages and disadvantages, but if the borrower is able to assume a low-interest loan, it's generally easier to process that transaction than to begin a mortgage process from the beginning on a new home. These advantages and the fact that the mortgage is insured presents a perfect program for a first time home buyer and also is the reason why the FHA is the largest insurer of mortgages in the world.
A borrower looking to apply for an FHA loan can expect the process for this loan to have a lot of similarities to a Conventional Loan. Unlike USDA Loans, the borrower can purchase any property in any location provided the property itself is safe and sanitary. If it is not safe and sanitary, a FHA 203K loan may be possible. The entirety of the FHA loan process is a bit more lenient than applying for USDA loans, however USDA loans do have no-money-down options.
For the FHA loan program, only the borrowers that will appear on the mortgage  must submit asset and income documentation. Very similar to Conventional and USDA  loans, the underwriters use bank statements and pay stubs to verify the borrower's assets and income. Any large deposits within 1 percent of the purchase price will need to be sourced with an accompanying letter of explanation, as this is required for anti-money laundering laws. This information is cross-referenced with a verification of employment that is filled out by the employer, most recent 2 years of W-2 forms or 1099 Forms and tax returns. All of these items will be needed by the underwriter to clear asset and income conditions.
Homeowner's Insurance is a requirement for most lenders at closing. If the home resides in a flood zone, then flood insurance is also required. There are no deductible requirements for the homeowner's insurance policy like there is for USDA loans. The borrower will need to have a declarations page for the closing table to show the home will have insurance.
An appraisal report is a report that is purchased by the borrower to show the value of a property. An appraisal report is important because it gives the underwriter a sense of value that may then be compared to the purchase price, as well as an idea of the overall condition of the home. Keep in mind that an appraisal is not a home inspection. An appraisal report can cost anywhere between $300 and $600 dollars. If there are repairs that are needed to meet FHA guidelines as requested by the appraiser, then those repairs will need to be completed promptly. These repairs are usually covered by the seller, unless the purchase contract specifically states otherwise. Once these repairs are completed, a completion report is then paid for to have the appraiser confirm the home now meets guidelines.
The best way for a first time home buyer to prepare for a USDA home loan is to do the following:
Confirm that the property being purchased is in a rural area eligible for USDA financing. This can be done through the USDA website.

Confirm that the borrower is income eligible by plugging in the property address of the home being purchased. This also can be done on the USDA website.

Prepare the most recent 60 days of bank statements and the most recent 30 days of pay stubs. The lender will need to confirm asset documentation and income documentation for any borrowers.

The lender will also require asset and income documentation for any person who will also be living in the home over the age of 18, if applicable.

Be sure to have an up-to-date driver's license and a clear copy of your social security card as forms of ID. For most lenders, a passport is also acceptable.

Be ready to explain any large deposits into your bank statements not clearly listed as payroll. The lender will double check your bank statements for income sources for eligibility reasons.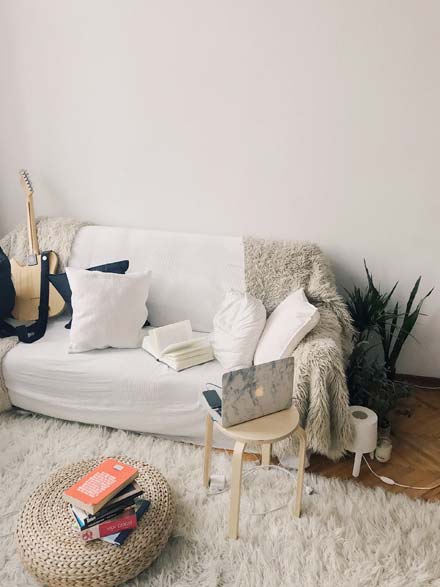 FHA Purchase Loan Requirements