An FHA loan can help people purchase a home, but an FHA refinance loan can help them pay it off with better terms and conditions. When you refinance your existing FHA loan with a new FHA mortgage, you may benefit from lower interest rates and more favorable terms. Even borrowers with conventional loans can refinance with FHA refinance loans as long as they meet the required criteria. 
FHA loans are backed by the Federal Housing Administration and are available to borrowers with less than stellar credit scores and low incomes. The flexible credit score requirements for FHA loans can help people buy their primary home on more favorable terms. The same stands true for an FHA loan refinance. 
Types of FHA Refinance Loans
There are two different types of FHA refinance options that can help homeowners reduce their monthly payments. Both options only refinance primary residence properties and, as with all FHA loans, you can't finance a home for investing reasons. 
FHA Standard Refinance (FHA Cash-out Refinance)
With the FHA Standard Refinance, there is the option for a cash-out based on your home equity. This is a great option when the real estate value of your home has increased and you wish to tap into your home equity to pay for other high-interest debts or other needs. In this case, the FHA Cash-Out refinance is a way to combine a mortgage loan and a home equity loan in just one monthly payment.
FHA Simple Refinance and Rate-and-Term Refinance
If you are looking for a lower monthly payment and are not interested in a cash-out, then you are looking for what is called an FHA simple refinance. If your current mortgage is not an FHA loan, then this option is also known as a Rate-and-Term refinance loan.  
Previous monthly payments
For the FHA Standard Refinance, a missed payment or two may be acceptable by the lender as long as the borrower provides a very detailed letter of explanation. 
This letter of explanation must include that the late payments were out of the borrower's control and that late payments would not happen again. 
Additionally, in order for the FHA Refinance program to be approved, the resulting mortgage payment must have a tangible difference, including all fees and interest. The exact amount varies with the type of loan being refinanced and the interest on the new loan.
FHA refinance loan rates
You can get an FHA Standard refinance loan with a fixed rate or you can opt for an adjustable-rate mortgage. 
Refinance from other mortgage options
An FHA Standard Refinance loan allows you to convert your existing mortgage to an FHA one, even if the current loan is not an FHA loan. 
FHA Refinance Requirements
The borrowers who will appear on the mortgage must submit asset and income documentation. Similar to Conventional Refinance and USDA Refinance options, the underwriters use bank statements and pay stubs to verify the borrower's assets and income. 
Any large deposits within 1 percent of the purchase price will need to be sourced with an accompanying letter of explanation, as this is required for anti-money laundering laws. 
This information is cross-referenced with a verification of employment that is filled out by the employer, the most recent 2 years of W-2 forms or 1099 Forms, and tax returns. All of these items will be needed by the underwriter to clear asset and income conditions.
The FHA Streamline Refinance requirements are as follows.
Original FHA loan
To obtain an FHA Streamline refinance mortgage the initial loan must be an FHA one. 
Cash-out option
The FHA Streamline refinance doesn't allow for a cash-out option. Only the FHA Standard refinance does.
Previous monthly payments
The borrower must prove they have paid the mortgage on time for the last 12 months without gaps or missed payments. 
Loan length
To qualify for an FHA Streamline refinance loan, you need to have your existing FHA loan for at least 210 days. 
Net tangible benefit
FHA Streamline refinance loans are made with the purpose of reducing your monthly payments. To get your current mortgage refinanced, the new mortgage must offer a reduction of at least $50 on your monthly payments and the interest rate must be lower than your current interest rate. 
Mortgage insurance premium
You will still need to pay your mortgage insurance premium with an FHA mortgage loan refinance. 
FHA refinance rates
FHA Streamline refinance options come with fixed or variable interest rates. 
Refinance from existing FHA loan 
The FHA Streamline refinances only an existing FHA loan. If you are looking for a way to finance a conventional loan, you must opt for the FHA Standard refinance option.
Credit, income, and asset information is still needed for debt-to-income calculations, but no extra items are needed. This means that a borrower applying for an FHA Streamline Refinance will not have to pay for another appraisal. On the downside, you still need to pay closing costs related to the loan, and these can't be rolled into the loan.
Although FHA loans come with more lenient debt criteria and lower credit score requirements, lenders still need to confirm that the borrower can repay the mortgage. A minimum credit score of 580 and above is recommended; the higher the credit score, the lower the interest rate charged. 
When you refinance an FHA Loan, you enjoy the following benefits.
Lower interest rates
The major benefit of refinancing an FHA loan with another FHA loan is to allow homeowners to take advantage of a lower interest rate, leading to decreased monthly mortgage payments and long-term savings. In fact, an FHA Streamline refinance mortgage can only be achieved if the new interest rate is lower than the previous one. 
Flexible qualification standards 
FHA loans are known for their more lenient qualification criteria compared to conventional loans. This can make it easier for a broader range of homeowners to qualify for a refinance and keep building their home equity. 
Streamline refinance option
The FHA Streamline Refinance is a simplified process for those who already have an FHA loan. Lenders require minimal documentation and no appraisal (in most cases). You may also benefit from reduced mortgage insurance premiums.
Cash-out refinance
FHA Standard refinance offers an FHA cash-out refinance option, allowing homeowners to access the equity of their property to enhance their personal finance with money which can be used for various purposes like debt consolidation, home improvement, or other major expenses. You can refinance up to 80% of your home equity value, as long as the new home loan amount is within the local FHA loan limits.
Stable monthly payments 
By refinancing from an adjustable-rate mortgage (ARM) to a fixed-rate FHA loan, homeowners can ensure stability in their monthly payments, protecting against future rate increases.
FHA Mortgage Insurance Premiums (MIP) reduction
If interest rates have dropped or the home equity has increased, homeowners might be eligible for a reduction in their annual mortgage insurance through refinancing. That's another benefit that will reduce their monthly mortgage payments. 
Trust Society Mortgage for Your FHA Refinance Loan
Navigating the world of mortgages and loan options can be a daunting task, especially when market dynamics constantly change. At Society Mortgage, we understand the importance of making informed decisions. Whether you're keen to learn about the debt-to-income ratio, credit report intricacies, or the nuances of private mortgage insurance, our services are tailored to meet your every need.
Our content is designed to keep you updated with the latest news and trends in the mortgage rates landscape. From loan term explanations to calculators that help you gauge monthly payments, we have several resources at your disposal. 
Our commitment goes beyond just offering mortgages. We aim to be a comprehensive service provider, assisting you in every state of your financial journey. Whether you're looking to refinance your FHA loan or are seeking guidance on loan requirements, our team, backed by NMLS consumer access, is here to help.
In line with our dedication to transparency and customer-centricity, we invite you to explore related articles on our website. Dive deep into topics like the pros and cons of each different type of refinance option. Every financial journey is unique and we're here to ensure yours is as smooth as possible.
As you consider your next steps in the world of finance, remember that Society Mortgage is more than just a company; we're your trusted partner, committed to empowering you with knowledge and choices. 
If you are looking for an FHA refinance mortgage that makes sense for your financial needs, contact us today, and let's chart a path to your financial success together.
Frequently Asked Questions
An FHA Streamline Refinance is designed for homeowners who already have an FHA loan. This type of FHA refinance loan requires minimal documentation and often doesn't necessitate an appraisal. 
A standard FHA refinance, on the other hand, may be used by homeowners with either an FHA or a conventional loan and requires a full credit check, income verification, and an appraisal.
For an FHA Streamline Refinance, an appraisal is often not required. However, for standard FHA refinances or an FHA cash-out refinance, an appraisal is typically necessary.
FHA refinance loans require you to pay for mortgage insurance the same as for your initial FHA loan, regardless of your home equity value. There are two types of insurance that you need to pay. First, a  one-time upfront fee when you close the refinance loan. Second, you have monthly insurance payments.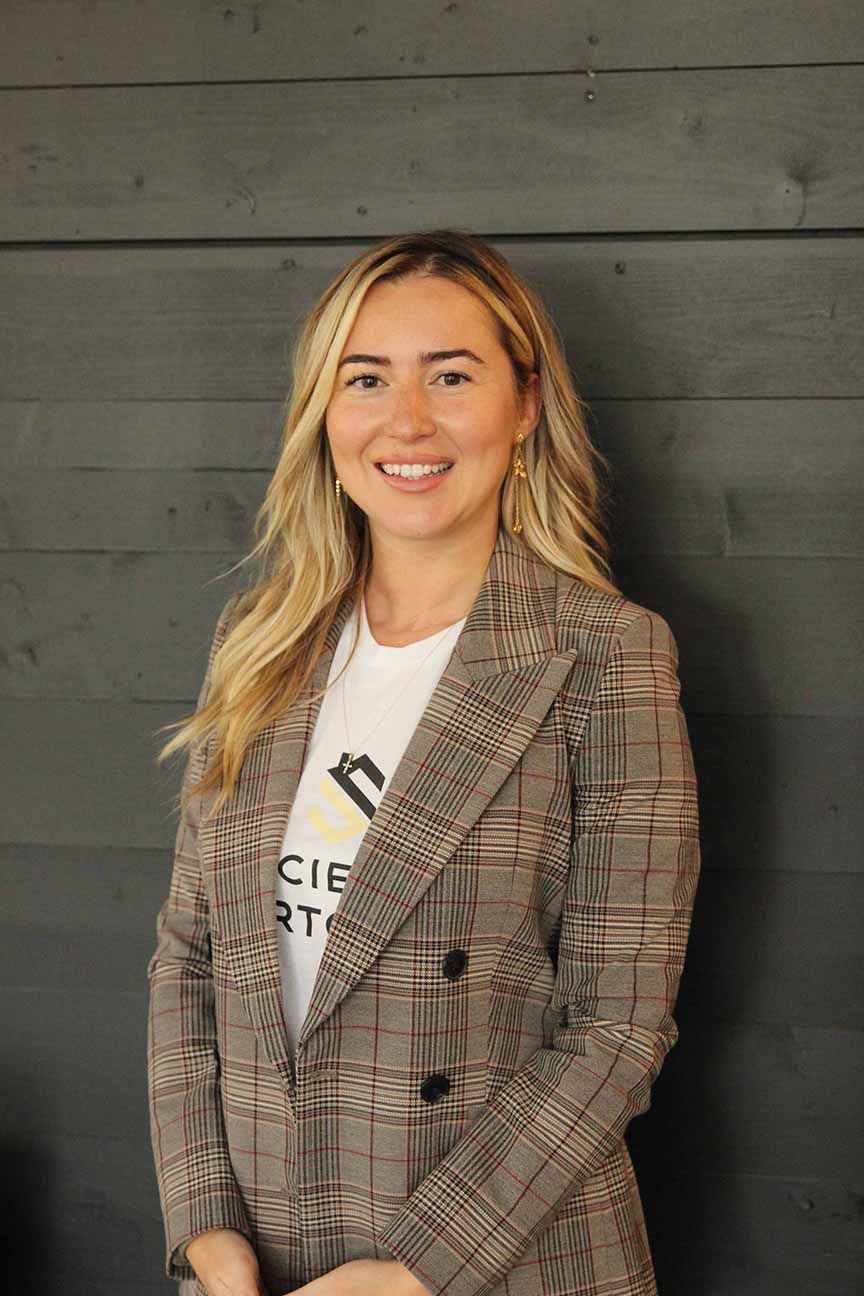 Venice Luckx is the Sales Director (NMLS ID: 1810923) at Society Mortgage. Hailing from Belgium, she now calls sunny South Florida home. With a background in Business Engineering, Venice brings a passion for finance and entrepreneurship to her role. She's dedicated to simplifying the home-buying process and is committed to helping you achieve your financial goals.