A 203k loan lets you purchase a house and renovate it to better standards. FHA 203k loans are a type of insured mortgage from the Federal Housing Administration and are available to low to median-income families to buy their primary home. 
Such renovation loans let borrowers purchase or refinance fixer-uppers that might not be available to the market. Many lenders would not agree to finance a fixer-upper with a conventional loan due to the repairs required. A 203k loan gives more flexibility to lenders and increases the availability of homes to buyers. 
In addition, fixer-uppers are often cheaper than turn-key homes. With a 203k loan, you get a home for a lower price and can still manage to renovate it according to your standards. With the right repairs, the value of the home will increase and your home equity will improve. 
With a 203k loan, you can effectively roll the cost of renovations into the original home purchase loan. You then benefit from the same interest rate and favorable terms to renovate the house and make it habitable and comfortable for you and your family. You can also use a 203k to refinance your home loan with better terms and conditions.
There are two types of 203K loans: Streamline 203K and Standard 203K. 
Streamline FHA 203K
Streamline 203K loans are for homes that require improvement projects that don't include structural renovation or other major repairs. It is the perfect option for properties that are in habitable condition while the renovations are carried out. The list of eligible repairs is long and diverse and includes renovation of roofs, gutters, and downspouts, replacing floors, kitchen and bathroom remodeling, replacing plumbing, enhancing accessibility, and other minor conservation improvements. 
Standard FHA 203K
The 203K standard loan is designed for properties that do require major structural renovations, such as turning a single-family home into a multiple-family one, or major landscaping and site improvements. In this case, the property under renovation is not suitable for residency until completely renovated. Such renovation projects may require an approved FHA Consultant.
FHA 203K Loan Requirements
The requirements for a 203k renovation loan are typically more flexible than for conventional mortgages. 
Credit score requirements
The program is geared towards low to median-income families and your credit history doesn't have to be stellar to qualify for the loan. Borrowers with a credit score upwards of 580 can apply for a 203K mortgage loan. 
Low down payment
The minimum down payment required for credit scores of 580 and above is 3.5% of the home value. Borrowers with low credit scores are required to put 10% of the home value as a down payment. 
On the upside, if you put a larger down payment, the terms and conditions of the loan will be more favorable and you could benefit from a lower interest rate. 
Low interest rate
When you merge the purchase of the home with the required repairs and renovation, you benefit from a lower interest rate. Many rehab loans come with higher interest rates. With a 203k loan, you benefit from low loan rates and are able to borrow for your dream home with better terms and conditions. You can opt for a 203k fixed-rate or adjustable-rate mortgage, depending on your preference. 
Mortgage insurance
Mortgage insurance is required for an FHA 203k loan, including two mortgage insurance premiums: 
An upfront mortgage insurance premium that stands at 1.75% of the home value is required. This can be rolled into the loan. 
The borrower must also pay annual insurance that ranges between 0.15% and 0.75% per year and is paid in 12 monthly payments. 
Primary residence
FHA mortgage loans can only be used to buy a home that will be your primary residence and cannot finance a secondary property or a business investment property. 
The repairs and renovations duration must be completed within six months of the purchase of the house. When planning for your home rehabilitation project, take into consideration that construction and other renovations must start at a maximum of 30 days after the closing of the mortgage loan but definitely not before the closing.  
How Does a 203K Loan Work?
When you apply for the loan, you state the cost of the property as well as the cost of the renovation, because the FHA 203K works as a construction loan. 
Once approved and upon closing, the FHA-approved lender transfers the money for the actual home to the seller and keeps in an escrow account the cost of the renovations. Once the contractor starts working on the repairs, a percentage of the budget is transferred into their account and the rest is paid upon completion. 
What Does a 203K Loan Pay in Terms of Repairs?
Some of the costs that an FHA 203k home loan typically covers include labor, materials, and even temporary rental arrangements while the home is being repaired. Plumbing and electrical repairs, remodeling, energy efficiency measures, and insulation can be included in the renovation costs as well. 
Contingency reserves
While not a prerequisite, it's good to put aside a sum of money as a contingency reserve for the renovation process. Renovation projects often come with unexpected expenses and it's good to have a backup plan and savings to cover them. 
FHA 203K Loan Application Process
A borrower looking to apply for a 203K loan can expect the process for this loan to have a lot of similarities to a conventional mortgage and very similar to a regular FHA loan. 
Unlike USDA Loans, the borrower can purchase any property in any type of area. The only real difference between an FHA loan and a 203K loan is that the home in a 203K loan will need repairs.
In order to be approved, a 203K home loan requires specific documentation regarding the borrower's income, property value, renovation budget, and insurance.
Proof of income
In the dynamic world of real estate, understanding the pros and cons of various loan options is crucial for personal finance. The 203k loan stands as a testament to the flexibility and innovation in the mortgage industry, allowing homeowners to both purchase and renovate their dream homes under one loan. As you compare this offering with other home improvement loans in the market, consider the balance between its benefits and limitations. This loan type is especially beneficial for those looking to upgrade homes that need a touch of love, from flooring to gutters and downspouts.
For the FHA 203K loan program, only the borrowers that will appear on the mortgage must submit asset and income documentation along with the borrower. 
Very similar to VA and conventional loans, the underwriters use bank statements and pay stubs to verify the borrower's assets and income. Any large deposits within 1 percent of the purchase price will need to be sourced with an accurate accompanying letter of explanation, as this is required for anti-money laundering laws. 
This information is cross-referenced with a verification of employment that is filled out by the employer, the most recent 2 years of W-2 forms or 1099 Forms, and tax returns. 
All of these items will be needed by the underwriter to clear asset and financial conditions to ensure the home isn't purchased with money laundering and other illegal means.
Home insurance
Homeowners' insurance is included in the closing costs for most mortgage lenders. If the home resides in a flood zone, then flood insurance is also required. 
There are no deductible requirements for the homeowner's insurance policy like there are for USDA loans. The borrower will need to have a declarations page for the closing table to show the home will have insurance.
Appraisal report
An appraisal report for an FHA 203K loan is a report that is purchased by the borrower to show the value of a property and the estimation of the repairs needed, during the loan approval process. 
The appraisal report is important because it gives the underwriter a sense of value that may then be compared to the purchase price, as well as an idea of the overall condition of the home. 
The cost for an appraisal report ranges between $300 and $600 dollars. An appraisal report for 203K will always include the repairs that are needed. However, these repairs will be accepted by the underwriter only when a licensed contractor provides a cost estimation of all repairs being needed. This estimate will need to be attached to the appraisal report for underwriter review.
Contact Society Mortgage for Your 203K Loan
While the loan amount is subject to FHA loan limits, the scope of home improvements and upgrades it covers is vast. Whether you're looking to refinance a home or embark on significant home improvement, this loan might be the perfect fit. Remember, in the ever-evolving estate landscape, having a company that offers such products with competitive mortgage rates can play a pivotal role in your housing and urban development journey.

Before diving in, always consider the additional paperwork, fees, and MIP related to such loans. And, as you navigate this section of your home-buying journey, always be sure to consult with professionals, be it contractors for your renovations or lending companies for the best mortgage rates. At Society Mortgage, our service is always reserved for you, ensuring you have the support and guidance you need from the best mortgage lenders. Stay updated with the latest news and reviews from the housing and urban development world, and let's make your dream home a reality together.
Do you wish to buy a house that needs work done? Contact Society Mortgage to learn about 203K home loans and how you can apply for one in your case.
Frequently Asked Questions
While a standard FHA loan is used for refinancing or buying a home in its current state, an FHA 203k loan covers buying a fixer-upper and renovating it, in one single loan. 
A 203K mortgage allows you to finance home improvements and a wide range of repairs. These include structural repairs, modernization of the septic system, energy conservation, eliminating health and safety hazards, installing a well, replacing roofing, adding rooms, painting the interior or exterior of your property, and major landscape work with some exceptions. 
While homebuyers are allowed to use the funds from the loan to repair an existing swimming pool, the program does not cover new swimming pools. The exact works you can fund depend on the type of loan you choose.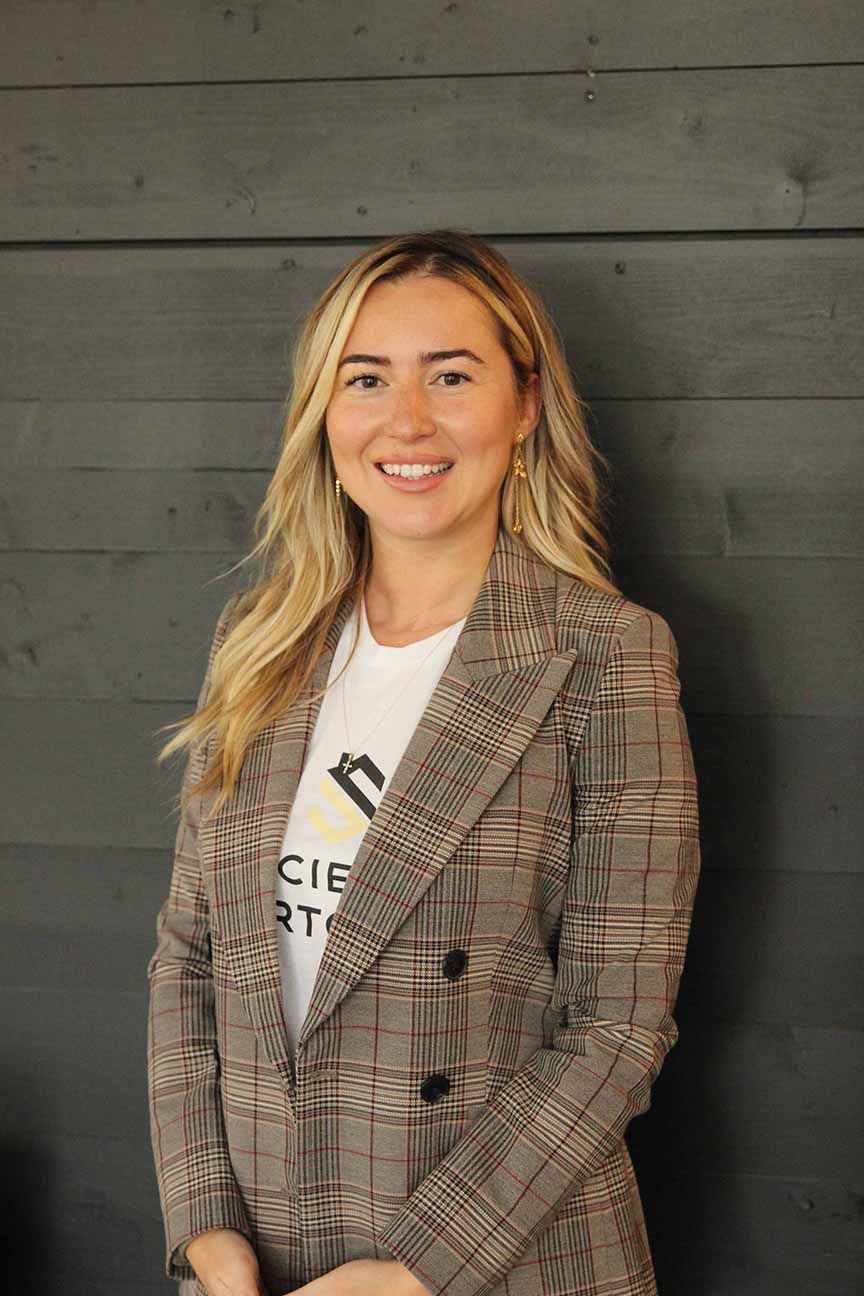 Venice Luckx is the Sales Director (NMLS ID: 1810923) at Society Mortgage. Hailing from Belgium, she now calls sunny South Florida home. With a background in Business Engineering, Venice brings a passion for finance and entrepreneurship to her role. She's dedicated to simplifying the home-buying process and is committed to helping you achieve your financial goals.