USDA loans, often dubbed as zero-down-payment mortgages, hold the key to homeownership for those seeking residences in rural and suburban regions. Their unique attributes and eligibility requirements set them apart from other financing options, offering significant advantages to eligible homebuyers. 
Whether you're looking to purchase or repair a home in a rural area, this type of loan could be your ticket to affordable homeownership. 
In this article, we'll explore the ins and outs of USDA loans and how they can turn your homeownership dreams into reality.
What are the requirements for a USDA home loan in 2023? Read on to find out!
Rural areas only
When you apply for a USDA mortgage loan, the USDA RD home being purchased must be in a rural location in the United States. Fortunately, around 97% of the country is currently within this category. A borrower can check whether or not they apply for an eligible house by going to the USDA property eligibility site and plugging in their property address. This is a good way to see if an estate is eligible before applying and get to know the opportunity policy statement.
Credit score requirements
As far as credit score requirements go, most lenders will accept a borrower with around a 640 credit score. If a borrower's credit history is less than perfect, this is also fine as long as the borrower provides explanations as to what happened, why it was out of the borrower's control, and why it won't happen in the future. 
As long as the borrower has a plan in place to prevent it from happening again, most derogatories and other blemishes in their credit report will be ignored.
Income requirements
The USDA belongs to the category of programs with income requirements based on the median household income of an area (this is the average monthly income a family brings in a specific location) and current income limits for the whole household to ensure that the loans go to the people who most need them. To qualify for a USDA-guaranteed loan, your income should not add up to more than 115% of the area's median income.
To be eligible for a direct USDA loan, the prospective homeowners must be very low-income individuals, which is below 50% of the area's median income, or low income, which is between 50% and 80% of the area's median income. 
Finally, to be eligible for a USDA-guaranteed loan, your debt-to-income ratio must be under 41%. A USDA loan program has several benefits, such as lower mortgage rates, but this is one of its cons: if you already have high debts to repay, chances are that you may not be eligible for a USDA loan. 
Home requirements
For loans and grants, the prospective homes must pass sanitary and safety standards before purchase. The USDA will approve new construction as well as existing houses, as long as they fulfill the main sanitary and safety guidelines outlined in the most recent HUD Handbook, and also as long as the home resides within an eligible rural area.
Primary residence only, non-income producing
The home must be a primary single-family housing. This means that you can't use it as a secondary residence, for running your business, or as an investment property to boost your personal finances.
Any amenities that can be seen as income-producing funding may disqualify a house for  USDA eligibility. An example would be a fully functional kitchen, bathroom, and bedroom in the basement accompanied by a second entrance. This may give the impression that the home may be rented out in the future, therefore becoming an income-producing property.
Preparing for a USDA loan application
The best way for a first-time home buyer to prepare for USDA housing programs is to do the following:
Confirm that the property being purchased is in a rural area eligible for USDA financing. This act can be done through the

USDA website

.

Confirm that the borrower is income-eligible by plugging in the property address of the home being purchased. This also can be done through the section of the guaranteed loan program on the USDA website.

Prepare the most recent

60 days

of bank statements and the most recent

30 days

of pay stubs. The lender will need to confirm asset documentation and income documentation for any borrowers so they can give you the full development loan plan.

The lender will also require asset, debt, and personal finance documentation for any person who will also be living in the home over the

age of 18

, if applicable.

Be sure to have an up-to-date driver's license and a clear copy of your social security card as forms of ID. For most lenders, a passport is also acceptable.

Be ready to explain any large deposits into your bank statements not clearly listed as payroll. The lender will double-check your bank statements for income sources for eligibility reasons.
Who Are USDA Home Loans Aimed at?
The USDA or United States Department of Agriculture Single Family Housing Loan Program is a United States Government loan program created and operated by the USDA Rural Development Housing and Community Facilities as an incentive for prospective borrowers looking to buy a house in eligible rural areas. 
This government program helps lower-income families or individuals to buy, refinance, or repair a home in eligible locations through the USDA loan eligibility program. It's an incentive for borrowers to live in rural areas by providing them with financial assistance to fund their rural housing through the payment assistance that the program provides. A population boost is hoped to stimulate the growth of a rural community, including the opening of businesses. It's also aimed at land development, real estate enhancement, farming, and agriculture. Rural areas are at a financial disadvantage compared to urban areas and the USDA is trying to remedy this bias by improving the quality of life in those areas. 
USDA mortgage loans are not designed for first-time homebuyers only. They are similar to business programs that can be used as home improvement loans or refinance loans. There are no mandatory loan limits set by the USDA, and the borrower can take a loan as high as private mortgage lenders will approve. 
Types of ISDA Loans: USDA Guaranteed and Direct Home Loans
There are two USDA mortgage loan types. 
First, the USDA Guaranteed Loans Program assists approved private lenders in providing affordable funds for eligible low-income borrowers or moderate-income borrowers. USDA private home loan programs are backed by the federal government, allowing private lenders to offer a lower interest rate and more favorable loan terms and conditions to applicants. 
Second, for low- and very-low-income applicants who are unable to obtain either a conventional mortgage or a USDA-guaranteed loan from private lenders, the USDA also offers family housing direct loans under the Section 502 Direct Loan Program.  
Both types are fixed-rate loans with a repayment period of 15 to 30 years for a family housing guaranteed loan and of 33 or 38 years for USDA direct loans.
There are many benefits to USDA loans. First of all, low-income people have access to mortgage lending, as there is no down payment required — which is one of the biggest obstacles to low and medium-income households when buying a home with a conventional loan. Usually, individuals who apply for USDA loans belong to lower economic strata with no equal employment opportunity compared to median-income individuals.
The competitive, fixed interest rates compared to conventional loans and lower monthly payments also help, as do the flexible credit requirements — which help people with blemishes on their credit score. 
As such, USDA loans and USDA contracts offer an opportunity to acquire an affordable, safe, and modern home in a rural area with the minimum mortgage payment.
Applicants for a USDA loan can expect the process for this loan to have a bit more quality information needed than any other loan program. 
Property and income eligibility
A borrower must find out if that property has USDA loan eligibility. They must also find out if they are income-eligible, which can be determined on the same website.
Once the property and household income are found to be qualified, the borrower should contact a loan officer to get pre-approved or contact an agent to negotiate a contract with the seller and seller's agent, if applicable. 
Necessary documentation
All household members who will be moving into the new home AND are over 18 must submit asset and income documentation along with the borrower. USDA loans use household income to determine eligibility for a loan, and this is verified with the underwriter by submission of bank statements and pay stubs. This information is cross-referenced with a verification of employment that is filled out by the employer, the most recent 2 years of W-2 forms or 1099 Forms, and tax returns. 
Bank statements 

Pay stubs

A verification of employment that is filled out by the employer

The most recent 2 years of W-2 forms or 1099 Forms

Tax returns.
Any large deposits that don't seem to be from the employer on file or are not marked as payroll at all will need to be sourced with an accompanying letter of explanation, as this is required to make sure there isn't any hidden income. All of these items will be needed by the underwriter to clear asset and income conditions.
Home insurance
Homeowner's Insurance is a requirement for most lenders at closing, so homebuyers must budget for a mortgage insurance annual fee based on the Inflation Reduction Act.
If the home resides in a flood zone, then flood insurance is also required. For the USDA loan specifically, the maximum deductible for all damages cannot be more than 1% of the dwelling coverage, or $1000, whichever is greater. 
For example, if a home has $240,000 dwelling coverage, the deductible CAN be $2400. Also, if the home has a dwelling coverage of $90,000, the deductible can be $1000, which is more than 1%. The borrower will need to have a declarations page for the closing table.
Appraisal report
An appraisal report is a report that is purchased by the borrower to show the value of a property. An appraisal report is important because it gives the underwriter a sense of value that may then be compared to the purchase price, as well as an idea of the overall condition of the home. 
Keep in mind that an appraisal is not a home inspection. An appraisal report can cost anywhere between $300 and $600. If there are repairs that are needed to meet USDA guidelines as requested by the appraiser, then those repairs will need to be completed promptly. These repairs are usually covered by the seller. 
Once these repairs are completed, a completion report is then paid for to have the appraiser confirm the home now meets guidelines.
Contact a Mortgage Loan Officer
A USDA loan is a great opportunity for households wishing to purchase their primary property in a rural US area. 
A Society Mortgage loan officer is always available to guide you through the USDA loan requirements for different types of home. At Society Mortgage, we are USDA-approved lenders and we can help you choose the best mortgage loan and more suitable private mortgage insurance option for your situation. 
We can also provide a home affordability calculator so you can calculate the expenses that arise when you close the loan, and find the best option to finance closing costs, by rolling some of them into the loan, using an assistance program or grants, or by helping you negotiate seller concessions.
If a USDA loan is not the best option for you to buy a home, Society Mortgage can suggest other loans, such as an FHA loan.
Contact us to learn more about our services to help you enjoy homeownership. 
Frequently Asked Questions
Eligibility for a USDA loan is based on factors like income, credit history, and the location of the property. Specifically, a borrower must meet the following criteria:
The household income should typically be below a certain threshold, which varies by location and family size. 

The property must be located in an eligible rural or suburban area, as defined by the USDA. 

Finally, the applicant must meet certain credit and employment criteria.
No, the property must be located in a USDA-designated rural area, and it must be used as the borrower's primary family housing. The USDA also has guidelines regarding the condition and type of property that can be purchased. Our Society Mortgage loan officers can help you with USDA loan requirements and help you fund the USDA-eligible home that matches your needs.
When you get a USDA loan, you need to pay both an upfront guarantee fee and an annual fee. The upfront guarantee fee costs 1% of the loan amount and the annual fee costs 0.35% of the loan amount in 2023. You must pay the annual fee with your monthly mortgage payments.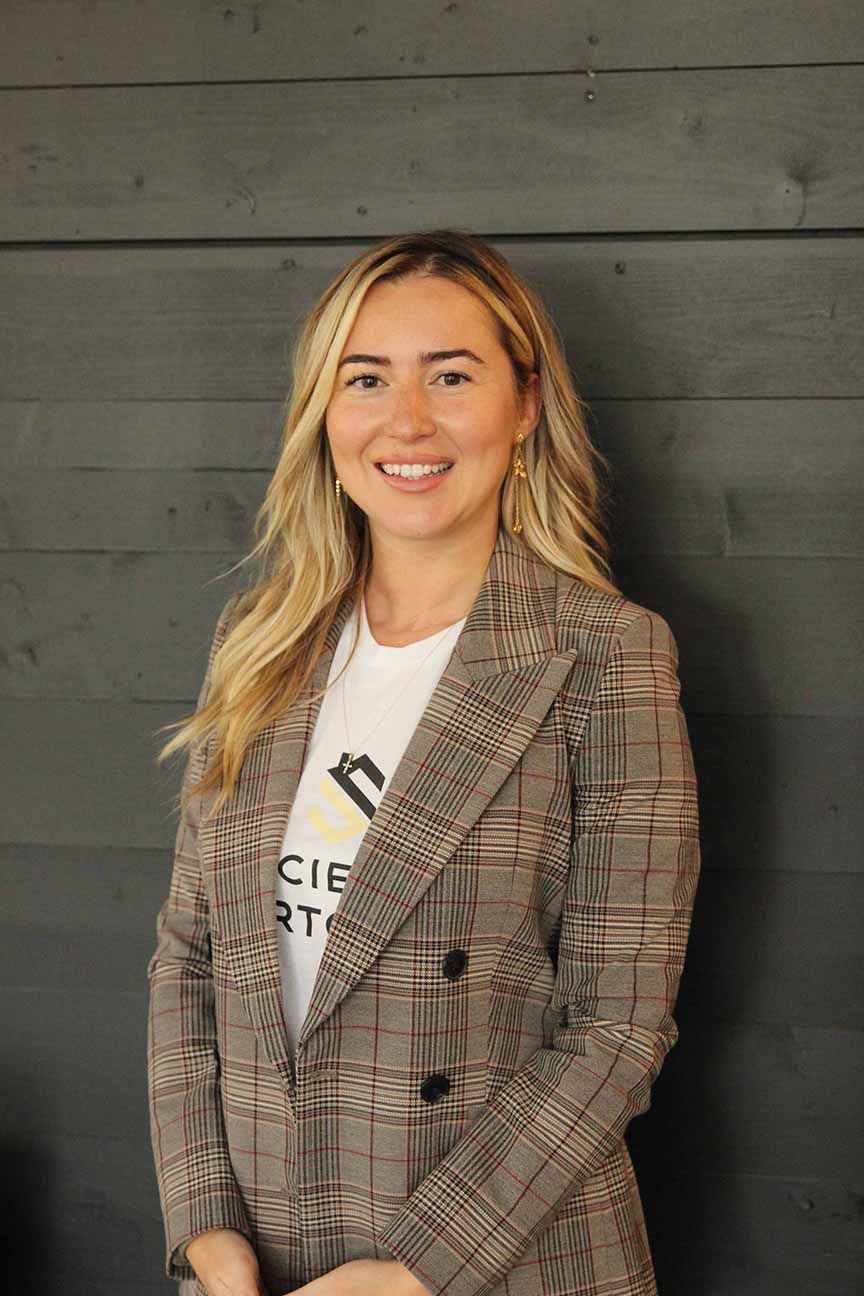 Venice Luckx is the Sales Director (NMLS ID: 1810923) at Society Mortgage. Hailing from Belgium, she now calls sunny South Florida home. With a background in Business Engineering, Venice brings a passion for finance and entrepreneurship to her role. She's dedicated to simplifying the home-buying process and is committed to helping you achieve your financial goals.