Veterans can refinance a VA mortgage to benefit from better interest rates and reduce their monthly payments, including housing expenses and home improvements. This will lighten their budget and leave money aside for other personal finance needs. With an interest rate reduction, you will also pay less in interest charges throughout the lifespan of the mortgage loan.
Types of VA Home Loan Refinance Programs
There are two main types of VA refinance programs: the VA Streamline refinance and the VA standard refinance. 
The Streamline program is simpler and more straightforward while the standard refinance lets borrowers in the military service refinance a non-VA mortgage into a VA one, as long as you have the right qualifications. 
The VA standard refinance lets you cash out a VA refinance loan from your home appraisal. This gives you disposable cash to repay other debts, a new VA home loan, or pay for whatever your household needs. This cash-out refinance loan can be a valuable financial help for surviving spouses, especially if you want to take advantage of your home's equity.
A VA Streamline refinance lets you refinance your existing VA loan into another VA loan with an interest rate reduction. VA Streamline refinance is only available for primary residences and borrowers must prove that they live in their current home. 
Mortgage payment
You must be current on your monthly mortgage payments for at least the last 6 to 12 months and your current mortgage must be at least 270 days old from closing. 
Lower monthly payments
It makes sense to refinance your existing VA loan if you are going to benefit from an interest-rate reduction refinance loan. A VA Streamline refinance comes with fixed interest rates. 
Closing costs
A VA Streamline refinance often comes in line with paying closing costs. These can be rolled into the loan so you don't have to pay them upfront.
Home equity
Borrowers can negotiate with mortgage lenders a VA Streamline refinance program irrespective of their home equity. Most borrowers opt for a VA Streamline when their home value has remained more or less the same but they want to benefit from a more favorable interest rate reduction, a lower mortgage insurance, or utilize home equity loans.
Appraisal
In most cases, there is no need to pay for a financial appraisal when you apply for a VA Streamline mortgage. 
Cash-out
There is no possibility of VA cash-out refinance with the VA Streamline program. 
VA Streamline requirements
The lender will ask for the borrower's credit score, income, and asset information to establish debt-to-income calculations, but no extra items are needed. A good credit score for this type of mortgage refinance is 620 and above. 
The VA Standard refinance type of loan is more flexible than the Streamline program but requires more paperwork. A major difference compared to the VA Streamline is that borrowers with a non-VA mortgage can apply for a VA Refinance and benefit from more flexible and favorable interest rates and payment terms. 
Another important benefit of the VA Standard program is that you can cash out and tap into your home equity if it's positive. This VA cash-out refinance mortgage can give you cash to pay off debt for other personal finance such as credit card debt, investment property needs, or other real estate investments. 
Lower interest rate
The main benefit of the VA Standard refinance is that you can potentially lower the interest rate on your mortgage. This is particularly significant if the borrower is switching from a different mortgage to a VA one. VA mortgages tend to have lower mortgage rates. 
VA status
If you are applying for a VA loan and you are switching from a non-VA mortgage, you must provide the right certification (Certificate of Eligibility) to prove you are a VA or qualify for a VA loan. 
Primary residence
Just like for other VA loans, you must show that you are refinancing the mortgage of your primary residence. 
Credit score and debt-to-income ratio
The minimum credit score is typically 620. The higher the credit score, the lower the interest rate. As for the debt-to-income ratio, it should be lower than 41%. 
Cash-out
The VA Standard refinance lets you cash out on your home equity. If your home has increased in value or if you have repaid a significant amount of your previous debt, you can get this gain in equity back in cash. 
Switching from a non-VA loan
You can apply for a VA Standard refinance program even if your current mortgage is a non-VA one, as long as you have the right qualifications. You then benefit from fixed interest rates and more favorable repayment terms on your full mortgage. Some borrowers choose the VA Standard refinance if they have an adjustable interest rate and would like the security of a fixed one. 
Closing fees, appraisal, and VA funding fee
When you apply for a VA Standard refinance mortgage, you must pay the closing fees, know the VA loan limits, and supply an appraisal of the home. 
An appraisal report is important because it gives the underwriter a sense of value that may then be compared to the purchase price. It also provides an idea of the overall condition of the home. If the home is appraised higher than the current remaining loan amount, this means that the home has gained equity. 
The borrower must also pay for the VA funding fee, which is unique to VA mortgages and finances the Department of Veterans Affairs to keep funding the program, supporting Veterans in their home loans and housing needs.  
The process
The standard VA Refinance option is very similar to the actual VA Loan process. 
A borrower looking to apply for the regular VA loan refinance can expect the process for this new loan to have a bit less information needed than its loan program counterpart.
For the standard VA Refinance program, only the borrowers that will appear on the mortgage must submit asset and income documentation. Very similar to Conventional Refinance and USDA Refinance options, the underwriters use bank statements and pay stubs to verify the borrower's assets and income. 
Any large deposits within 1 percent of the purchase price will need to be sourced with an accompanying letter of explanation, as this is required for anti-money laundering laws. 
This information is cross-referenced with a verification of employment that is filled out by the employer, the most recent 2 years of W-2 forms or 1099 Forms, and tax returns. All of these items will be needed by the underwriter to clear asset and income conditions.
Trust Society Mortgage for Your VA Mortgage Refinance
VA-Backed Home Loans provide veterans with an excellent opportunity to secure housing with lower interest rates and favorable terms. By refinancing their existing VA mortgages, veterans can unlock these benefits and reduce their monthly mortgage insurance payments. 
Additionally, exploring options like a home equity loan or a standard cash-out refinance can offer financial flexibility. Whether you're looking to refinance your current VA loan or considering VA cash-out refinances, understanding the right type of refinance for your situation is crucial. 
Veterans can also explore a VA-backed home loan to enjoy the benefits of lower interest rates provided by the federal government, as showcased on federal government websites. And veterans in need of assistance, a home equity line, or a line of credit can reach out to the veterans crisis line for support and guidance. 
It's essential to review all costs and fees with your mortgage lender to understand the total amount and how it affects or benefits your monthly payments. Let us be your guide in navigating the world of VA home loan refinance. Contact us today — we'll help you find the best mortgage refinance program for your needs and guide you through the pros and cons of different options for refinancing your mortgage. 
Frequently Asked Questions
Eligibility for a VA refinance loan generally requires that you have previously used your VA loan eligibility to purchase a home but the details differ depending on the type of loan: 
For a VA Streamline refinance, you must be refinancing an existing VA loan. 

For a VA Standard refinance, the refinanced loan must still meet standard VA credit and underwriting requirements. Additionally, you must have a valid Certificate of Eligibility (COE) and meet the minimum service requirements set by the VA.
Yes, just like other loan types, there are closing costs associated with VA refinance loans. However, with a VA Streamline program some of these costs can be rolled into the loan amount, allowing service members to refinance with little to no out-of-pocket costs.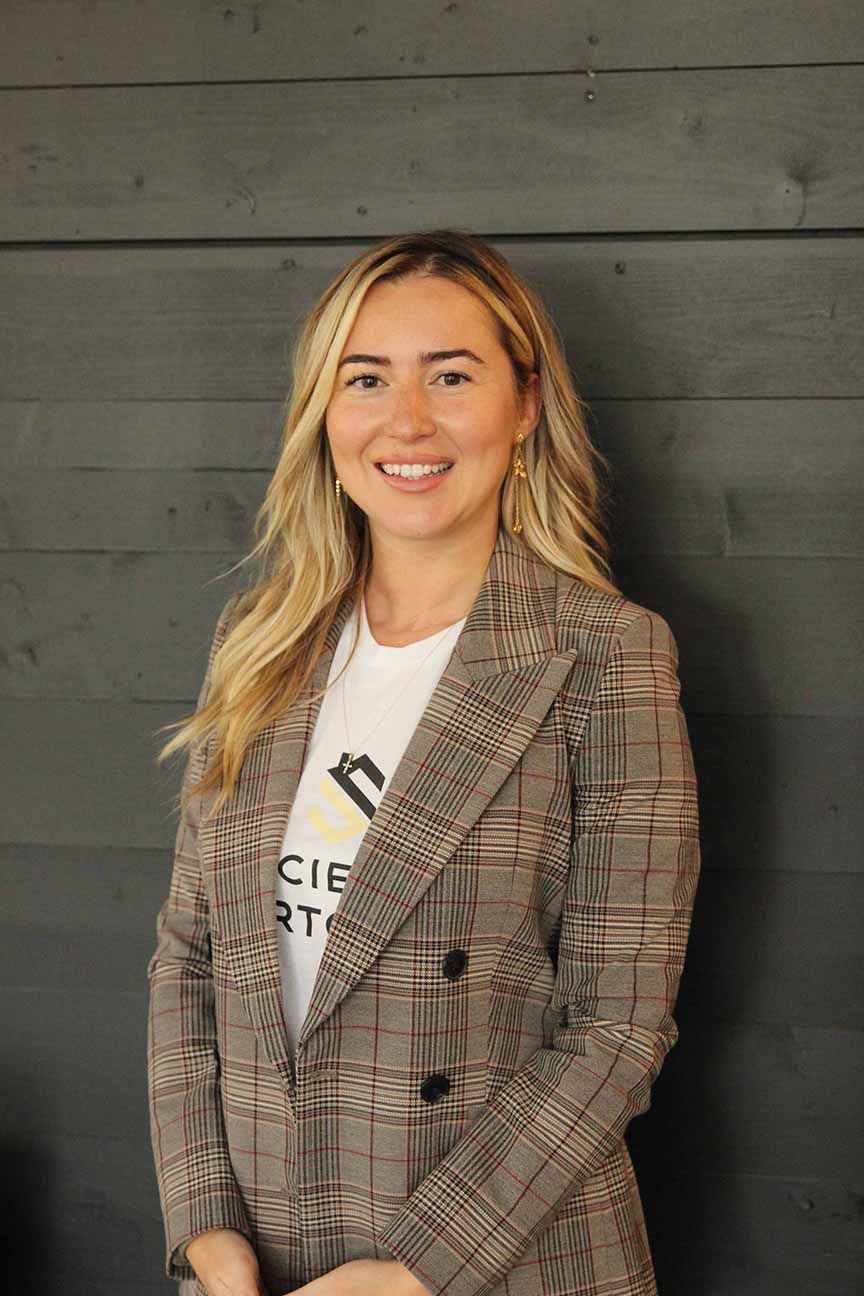 Venice Luckx is the Sales Director (NMLS ID: 1810923) at Society Mortgage. Hailing from Belgium, she now calls sunny South Florida home. With a background in Business Engineering, Venice brings a passion for finance and entrepreneurship to her role. She's dedicated to simplifying the home-buying process and is committed to helping you achieve your financial goals.